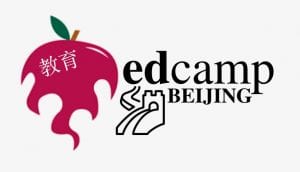 Yesterday was such an AMAZING experience for the organizing committee and the participants. #EdCamp Beijing went EXACTLY as we had intended!
I was the only person on the entire organizing committee that had ever attended or organized such an event. I was so pleased that the team had such open minds and were excited about looking at new and participant centered ways to engage our teachers. There were some different factors that we had to consider in organizing our EdCamp:
1. How do we manage the large number of schools that might want to attend?
2. How do we support and accommodate the large number of Chinese teachers who will be in attendance?
3. How do we support the participants in shifting their expectations about what PD can look like when it is directed by the participants?
These questions guided our planning and preparation for the day. We decided to be careful how we marketed this opportunity for participants and who we marketed it to. We decided to stay within our network of English and Chinese schools many of which are IB schools. We did also invite some of our non IB international schools hoping that they would also see this as such a great opportunity! We sent out a registration form to our networks and ended up with 240 registrations. About 60% Chinese and 40% foreign teachers. We also asked participants to indicate if they were willing to facilitate and many indicated that they would love to facilitate.

We knew we would have a large number of Chinese teachers and wanted to accommodate their needs. It is really difficult for many of them to attend sessions in English because of
their need to constantly translate the discussion. They tend to participate more when it is in their home language. We wanted them to get as much out of it as everyone else so we mirrored our sessions. We offered 12 sessions in three blocks in both English and Mandarin. Teachers were able to post their topics in Mandarin and our Mandarin co-organizers sorted them in the same way as our English organizers did. We colour coded the sessions and divided the floors into Mandarin and English.
Finally we wanted our participants to know what an EdCamp really was! International schools PD opportunities have not involved as much as Western public systems have. PD is still fairly traditional. We invite in workshops for a couple of PD Days for teachers to attend or we send them to other workshops offered throughout Asia. There are few opportunities for job-embedded PD that support coaching teachers to changing their practice. We use our coordinators and coaches for this but they also need support and coaching so that they can move teachers forward. Networks are build but still involve sharing of ideas and resources. International Schools are VERY competitive so having a formal network of support and sharing is difficult.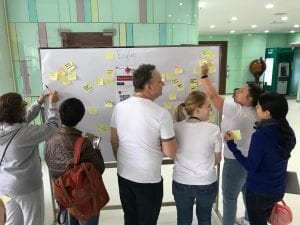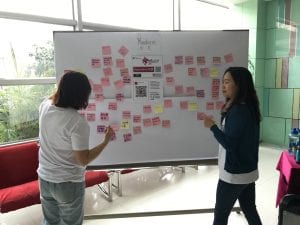 We wanted our participants to know what to expect so we sent out a great deal of information ahead of time including a short video of what to expect at an Edcamp. We created a large WeChat group for participants and provided information leading up to the event in both English and Chinese.
When participants arrived we met them all in the lobby and supported them in knowing what to do. Within no time we had 2 boards covered in post it notes with some deep topics for discussion.
We gathered in our auditorium and I was able to do a welcome speech and give participants an overview for the day. We let participants go and begin their discussions for the day! Each person had 3 choices that they could attend. We practiced the Law of Two Feet and allowed participants to decide on sessions that worked for them and to choose as needed. We provided tours of our school prior and after the event so that participants could see some of our best practices in action and read our walls.
The experience was OVERWHELMINGLY positive! There was a buzz of excitement from the beginning of the day to the end. Several groups stayed to debrief and share their learning and some went out for lunch together to continue their learning. Many of the participants asked when we would be doing it again! They were hooked! They felt that the experience was valuable and filled a need for them!
We gathered for about 30 minutes to reflect as a team and listed the positives and possible changes.
Positives:
Number of participants: 160 people were in attendance
Chinese participants came prepared to discuss topics of interest to them.
Cultural breakthrough in how our traditional Chinese teacher view professional learning!
Offering sessions in Mandarin and English was positive.
Variety and choice of sessions was great!
Timing of the sessions was perfect!
Creating the board of sessions was easy and we allowed enough time to do so!
Tours were well-received!
Changes:
Offer 10 sessions instead of 12
Break up sessions by level of experience ie.New to play-base learning/experienced at play-based learning
Re-adjust sessions for 3rd time slot
Scale down the amount of food we provide.
Shorten our second break
Look at future EdCamps for Leaders and Teaching Assistants
Offer a time at the end for consolidation and networking
Have a bigger team for the day of the event
Find some sponsors!
All in the all the day was a GREAT success! We were all thrilled with how things worked and are planning to offer another opportunity in the Fall and Spring next year!
So pleased to have worked with such an AMAZING team of educators to plan and offer the first #EdCampBeijing! So proud of our work!