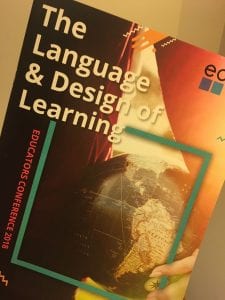 Last weekend I had the opportunity to participate and present at the ECIS Conference in Luxembourg where the theme was The Language and Design of Learning.
There were some fantastic key note speakers Ewen McIntosh from NoTosh, Christian Long from Wonder and Allison Borthwick a true math ambassador.
Participants were able to spend a day and half doing a" Deep Dive" into their topic of choice, and then had the opportunity to attend 30 minute sessions followed by 1 hour sessions that were "mini" versions of the "Deep Dive" or new sessions.
It was easy to see through the keynotes, sessions and even social activities some themes that emerged from the conference. Innovation, Creativity, Collaboration.
Innovation
The conference was held at the International School of Luxembourg. An innovative and creative space from the common areas, flexible seating, murals, and conference room loft, and lighting. A beautiful school and learning community!
If we want to be innovative leaders…..
How do we create a culture that moves from problem solvers to problem shapers?
How can we lead lives life of innovation?
How are we fostering a culture of entrepreneurialism or vulnerability?
Are we math ambassadors? Do we spread the love of math?
What can we remove to see what we need to see?
Creativity
From the sketchnoting during the sessions, the band at the gala reception, the sessions on drawing for problem-solving, the arts and crafts from The NERVE Network and the woman from Uganda and the delicious food prepared by the chef Pascal creativity abounded throughout the conference.
As school leaders how do we view creativity?
Is creativity associated with an individual or should it be seen as a social process?
How can we create curious learners if we are not curious ourselves?
Do we recognize where our children flourish? Where we flourish?
Do we miss moments or capture moments?
How do we create a spark?
Collaboration
Collaboration was evident everywhere from the conference organizers, to the small group work, teams of presenters, volunteers, catering crew, and keynote speakers.
As leaders do we value?
Creativity as a collaborative process.
Connections: Do we create conditions to do for one another?
Achieving something together.
Synthesizing thinking and gathering the stories of all.
Taking risks and having each other's backs.
I left the conference energized, excited, curious and questioning.
How can I as a leader change my practices to create a collaborative school culture that values creativity and innovation?
How can I create the conditions for teacher agency?
How do I model Innovation, Creativity and Collaboration in my leadership?