Yesterday I read a Facebook post about students who often are often forgotten when we celebrate achievements and milestones. Those students who come to school every day despite the challenges that they face. Those students who aren't flashy but always do the right thing. Those students who are kind, creative, thoughtful, or just!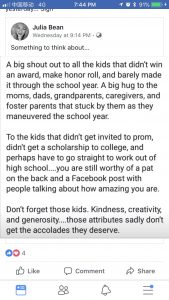 That same day I saw a post about a student in my former district who had beat EXTREME odds and was graduating high school. I will not tell this student's story as it is not mine to tell but I know that she had an incredibly difficult life and will forever be in the shadow of her fathers' legacy yet she found a way to overcome her adversity and move forward.
We are also in the midst of celebration season at school, graduations, awards, certificates, trips and parties.
This all prompted my thinking……. Are we celebrating what truly matters in school?
Are we creating milestones that do not exist just to please parents and make students feel "special"?
Does everyone get a participation ribbon for just showing up?
What is it that we value in our school and our culture and how do we celebrate that?
As any of my current or former teachers know I am not a big believer in "graduation" ceremonies for Early Years or middle school? Graduation for me is a HUGE accomplishment. It is the end of your public school experience and should be celebrated. I understand Grade 8 graduations as students as moving from one phase in their life (elementary school) to another high school. For some students this may be the only graduation that they ever have. Some students are unable to complete high school and therefore will not graduate. But Preschool, Kindergarten, Grade 6? Who are these ceremonies and "graduations" for? What milestones have been achieved?
I believe that by having all of these "graduation" ceremonies it waters down or diminishes the true accomplishment of graduating from elementary school, high school and even college. It seems more like a rite of passage than a graduation.
If we are going to have such "graduations" can we rename them as promotion ceremonies and have them for all students who are moving from one grade to the next? Can we view them as an end of year celebration for all students and teachers? Can we highlight all of the amazing things we accomplished as a class or as a community? Can we make it inclusive?
This brings me to my next thought…. AWARDS!
Could we look at awards from a different perspective?
I understand in high school the need to celebrate the academic, athletic and creative achievements of graduates as they are moving on to another phase in their lives and it will be competitive and they will separate themselves from others based on academics and achievement. Scholarships and other monetary awards often need this type of criteria. That is how the world works but do we have to start this practice in elementary school? Developmentally students are so different and everyone grows and changes at different rates. I scholar in grade 3 may have academic challenges in grade 6. The best kid on the hockey team in grade 6 may not be good enough to play in grade 10. I child who is struggling with language in grade 4 may be fluent and above grade level in grade 8.
Could we begin to look at success and achievement based on the components of the IB learner profile?
Could we look at the competencies needed for 21st century learners?
What about values like kindness, resilience, determination, initiative, empathy, respect?
Can we find authentic and tangible examples in our students to celebrate and honour?
I often think of the underdogs, the survivors, the resilient, the determined, the average, the grinders, the workers and those students doing it on their own. For some students moving from a C to a B is a HUGE accomplishment. For others showing up every day at school despite crippling anxiety, the struggle of poverty, mental health or substance abuse in their home, being shuttles between divorced parents, having a learning disability or a host of other issues is an accomplishment. A HUGE ONE! How do we celebrate them and their accomplishments? How do we let them know that they too have made AMAZING and authentic contributions to the world? How do we let them know how truly special they are?
As school leaders I think it is important to review, revisit and re-examine what we celebrate and why in our schools. What are your thoughts?