This summer I had the pleasure of traveling with 2 admin and 3 teacher colleagues to Denmark and Sweden to present to groups of Danish and Swedish educators. I will be devoting several of my next blogs to talk about the people, places, and systems we encountered on the trip as well as the lessons I learned along the way.
Life in the Fast lane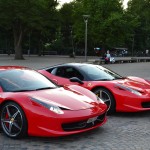 On our trip there were several times that we found ourselves living life in the fast lane.
Five days of presenting in Denmark, multiple presentations a day in multiple municipalities.
Editing presentations on the fly to best meet the needs of our audience and our time limits.
Getting on the train……challenging to hop on an hop off with luggage in tow, amongst a gymnastics team of forty young girls or an exhausted group of 30 boy scouts.
Bob and Steve taking down the drunk Fin on the train while Ann Marie gets a surprise guest in the bathroom at the same time. Quite a commotion!
Jumping out of the bike lane to avoid a collision. Danes and Swedes take their biking VERY seriously. It is the number one way of getting from place to place.
Problem-solving how you are going to get your TVDSB phone that you left in your hotel room from Denmark back to Ontario. SIM card to call hotel with your unlocked iPhone and have them send it with your colleagues who were still there! Thanks Jen and Jane!
Seeing the entire city of Stockholm and getting everyone's bucket list items crossed off (Vassa ship museum, tour of Old town, ABBA museum, boat tour and dinner in a restaurant that overlooked the city). Thank goodness for Emelie our local expert.
Finding a WC (water closet) and the Euros, Krona, krone to access it.
Converting the currency from Euros, Krona, Krones to see if the cost was reasonable.
Fitting in opportunities to sight see between presentations and taking a 1000 pictures at the same time.
Late nights and early mornings!
Meal time with colleagues and our gracious hosts: Each time we sat down to a formal dinner we did so for several hours over several course and bottles of wine. Meal times were cherished times. It was there that we learned about Danish and Swedish customs, way of life and about one another. It was these times in which bonds were formed over conversation and laughter!
Fika: Fika (Swedish pronunciation: [ˈfiːˌka]) is a concept in Swedish culture with the basic meaning "to have coffee", often accompanied with pastries. Although introduced to this concept in Sweden it was also part of our Danish experience. During our presentations there were several breaks. People did not rush to check phones or do more work they stopped and engaged in dialogue with their colleagues that often spilled past the allotted time. There was no rush.
Boat Rides: We toured the islands of Vastervik, the city of Stockholm and Bob and Steve even toured the Vassa museum. A slow, peaceful and fun way to learn about our new surroundings.
Train rides: Besides the commotion on our one train ride from Copenhagen to Linkoping we had lots of time to rest, read, and catch up with our families. Wifi on trains came in handy!
Sightseeing: Strolling through cities, riding through the country side or biking along the river all allowed us time to take in the sights around us and to give us an appreciation of beauty and uniqueness of Denmark and Sweden.
I have had time to reflect on the experience both fast and slow, and have found that the slow times were the most treasured. Time to converse, to learn, to laugh, and to enjoy each others company. It is my hope to spend more time this year in the slow lane.