Writing my blog this week was a challenge. Usually there is an article I have read, an experience I have had or an event that sparks a thought or an idea. I tend to ruminate on my thoughts around the post for a few days to a week and then write. This week with being away for Harrison's graduation and then coming back and jumping right back into work I really found myself struggling to find something to write about. When I tried to sit down and write I realized that the pace of the week had not provided me with reflection time.
I have come to realize that I need time to reflect, time to think and time to consolidate my thoughts. When I do not have it I feel a bit lost, confused or unsettled.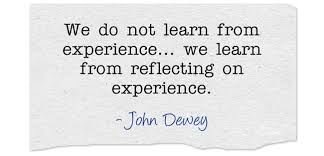 As I shared through my blog last week I had lots of time to reflect on the feedback that was given to me by staff in my EQ360. I knew in writing it that it was risky and was not sure how others would take it. I was asked by some to defend why I put it out there…..my response is that I did it because I truly believe in being transparent. Anyone who completed the EQ360 is absolutely entitled to their thoughts and feelings about my performance. I do not hold any personal grudge or ill will towards those who feel confident enough to share their opinion. I have no idea who made what comments and honestly it does not matter. There is room for reflection and a change in practice based on the feedback: good or bad. I want to be a strong leader and my belief is that strong leaders are open to feedback, reflect on it and use it to change, enhance or refine their practice. The only thing I wish was different is that people would feel confident and come to me to sit down and discuss their thoughts and feelings face to face. As a result both my Vice Principal and I invited staff to sit with us to share their specific concerns thoughts and feelings. I sent out my schedule for staff on a Google doc and left spots they could sign up for one on ones.
Another area for improvement was classroom visits. I again put out my schedule and invited staff to sign up for a slot in which I would come to their classroom to visit and to provide feedback.
My hope is that with these changes in practice staff will see that I value their feedback and that I am willing to reflect and make changes for improvement.
I am going to send out a Survey Monkey about feedback as well. I would like to know how staff define feedback and also how they would like to receive it from me. Feedback is very personal and I want to insure that staff are getting feedback that they value and will use to improve their practice.
This week we scheduled meetings with our SMART goal groups to reflect on their work. This was an opportunity for staff to consolidate and share their learning through their self-selected SMART goal topics. This process allowed my VP and myself to gain greater insight into how our staff learn, reflect on their learning and share their growth. Staff were asked to follow an inquiry cycle like they use with their students. Many of them chose to present their work using this cycle. Others did not. What struck me was the different levels and methods of reflection. Some were very personal and some were focused on the learning of the group. Some involved experimenting in the classroom with students, some focused on personal growth and change, some used the wisdom and support of their group, and some began in one place and evolved and changed as the result of the needs of the group. All were very different! What I gained from these meeting was a perspective about the different ways that people reflect on their practice. Some were very nervous, some reserved, some were very open, honest and transparent, some were a back and forth dialogue between the group and ourselves and some were very factual and information based. It was obvious that everyone had learned something but what and how they learned was very different. Most striking was how they reflected on their learning, shared their experience and used it to change or enhance their practice.
This process made me wonder…….
How as leaders we create the conditions within our culture for reflection?
Do our staff know how much we value reflection?
Are we openly modelling this process for our staff?
Do we ask the right questions?
Do we provide enough time for deep reflection?
Do we give choice in the way we ask for teachers to reflect?
How do we support those staff who find reflection difficult or unnecessary?