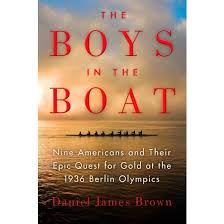 During the Golden Week holiday I finally sat down to read "The Boys in the Boat." I knew that I would instantly connect with the story because it was about the USA Olympic Rowing team and their quest for a Gold Medal at the 1936 Olympics and we have been a part of the world of rowing through our son Harrison who has rowed at Hobart College for the last 4 years. We know intimately the sacrifices and dedication both physically and mentally it takes to be a successful oarsman. What I did not know is that this book would have me reflecting about the parallels to leadership and the elements of a strong successful team.
There was one quote from the book that really resonated with me about how as a leader we work to form a collaborative and productive teams. "Good crews are good blends of personalities: someone to lead the charge, someone to hold something in reserve; someone to pick a fight, someone to make peace; someone to think things through, someone to charge ahead without thinking. Somehow all this must mesh. That's the steepest challenge. Even after the right mixture is found, each man or woman in the boat must recognize his or her place in the fabric of the crew, accept it and accept the others as they are."
So what does this have to do with leadership?
As a leader you must first recognize and identify what each member of the staff brings to a team. What are their strengths? Where do they need to grow? How do they work with others? What is their communication style? How do they manage conflict? How are they motivated?
You need to observe how they work with their colleagues, their habits and how they need to be supported to grow. You must know intimately their abilities and personalities so that you can carefully choose the right team for the task. We need people on our teams that challenge assumptions, examine both sides of an issue, innovate, focus on details, are knowledgeable and experienced and want to lead. The challenge is finding the right balance to create synergy. Teams often get off track if they do not have the right ingredients for success. Dysfunctional teams are hard to manage and often fail.
In the book there is a quote by the famous boat builder George Yeoman Pocock about crews(teams) finding their swing. He says: "When you get the rhythm in an eight, it's pure pleasure to be in it. It's not hard work when rhythm comes- that "swing" as they call it. I've heard men shriek out with delight when that swing came in an eight; it's a thing they'll never forget as long as they live."
All of us have been part of a team that was a disaster or just mediocre. Personalities do not mesh, the group is unfocused, the task is unclear, there is no leadership, the commitment among team members wavers, but what happens when that team finds their "swing." The feeling of achievement and pride that comes with that success is overwhelming. The commitment to the task and to the other team members is unwavering and the emotional high of success is unforgettable!
Watching rowers in sync on the water is a thing of beauty. It is magical and breathtaking to see all oarsman pulling in the same direction creating ripples as they move upstream.
As leader there is no greater satisfaction then creating and leading a team to success and knowing that as the result of the experience you have helped others to grow and learn.
As a leader what do you do to create or support the conditions necessary for teams to find their swing?